CITY OF BRISBANE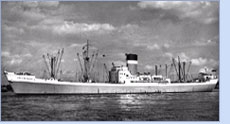 LENGTH 137m
BEAM 17m
7,094 TONS
Built in 1918 by Swan Hunter & Wigham of Newcastle upon Tyne and owned by Ellerman Lines, this 7,094 ton steel steamship was on a voyage from London to Buenos Aires. She has a three-cylinder triple-expansion engine.
On the 13th August 1918 The City of Brisbane had left London and was making her way down the Channel when one of the lookouts suddenly shouted that he could see the wake of a torpedo. Within moments the Brisbane had been struck and the whole of the ship's port side imploded, leaving the engine room wide open to the sea. Within minutes, the stern of the vessel was on the sea bed, and the master hurriedly ordered the crew to the lifeboats. All hands managed to get clear of the vessel. Thirty minutes later they watched the ship sink. A torpedo fired from UB-57 had inflicted the deadly blow. She was the last victim of Oberleutnant Lohs in UB57,before he and his entire crew died when it hit a mine outside it's base the following day.
THE DIVE
This wreck is upright, but broken in two parts and has a lot of dead mans fingers growing on the exterior, which form the home of quite a few common crabs and various fish life. This can be interesting for photo's on a clear visibility day. The sea bed - a mixture of silt and clay can be easily disturbed. Colourful plumose anemones are particularly notable. An abundance of mussels and starfish cling to the metal remnants of the Brisbane. The bow stands between 5 and 6m proud and it is here that tubes and girders stand tall in a random fashion, like porcupine's spines. Other parts of the vessel present an assortment of massive plates that stand between 3 and 4m high.